Photos will be online within 3-5 business days after sports shoots.
Any team can schedule photos with us!
All we ask is to be the only photographer taking game and individual/team photos for your team or league and to work with us on the instructions below.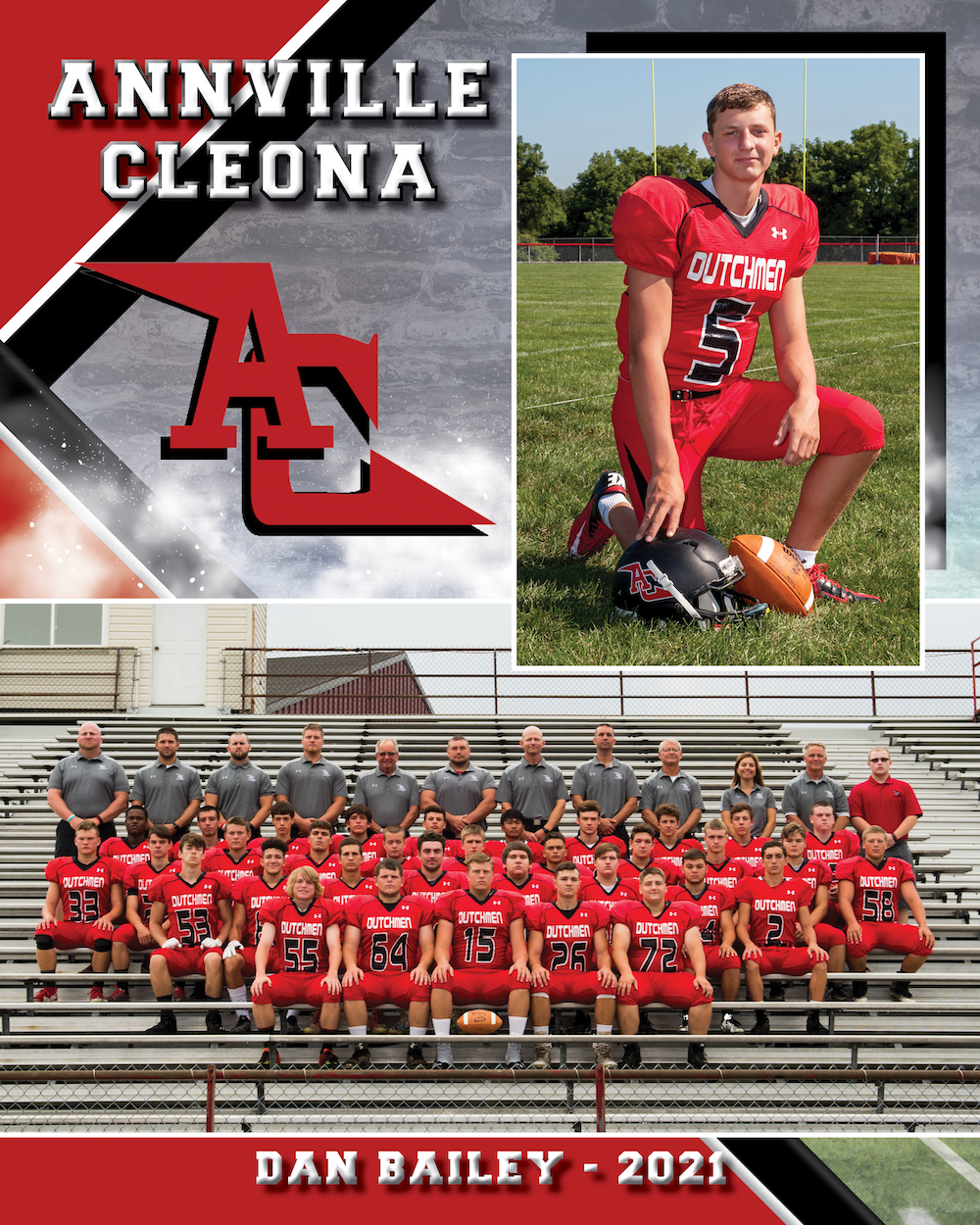 We try to make your team pics as easy as possible for you and the athletes. There's no cost to the school, team, or parents! All we ask is that you work with us to make sure our process below runs smoothly and that we're the only photographer taking pictures for your team or league.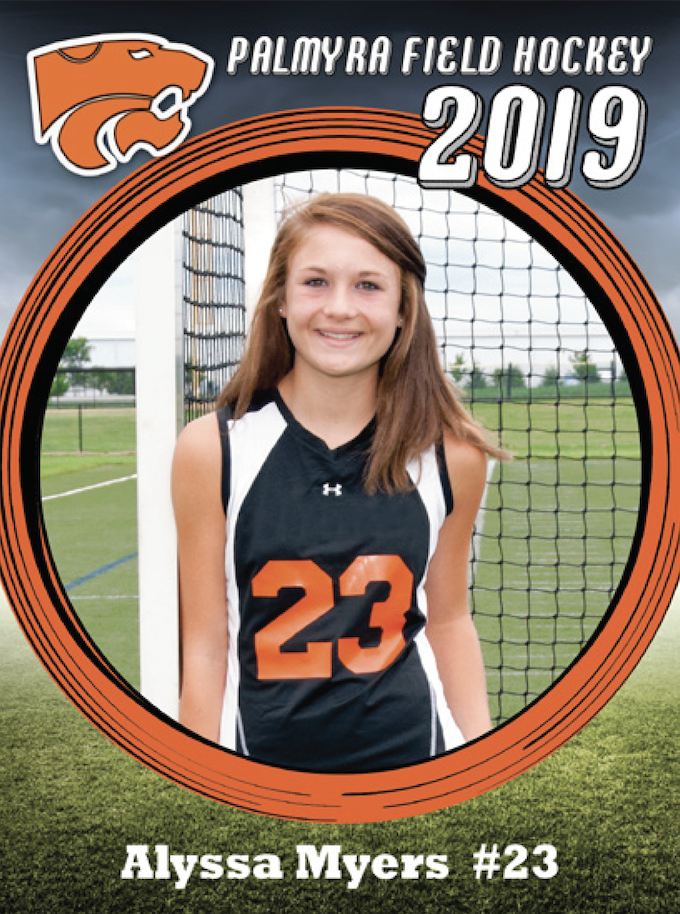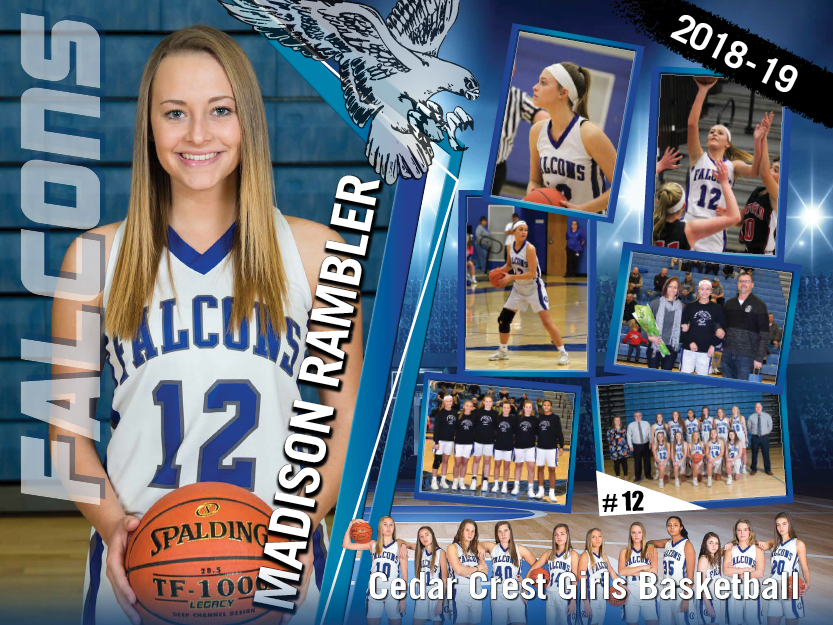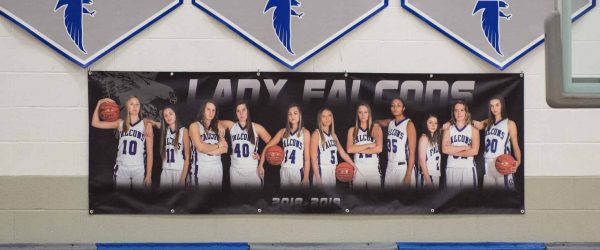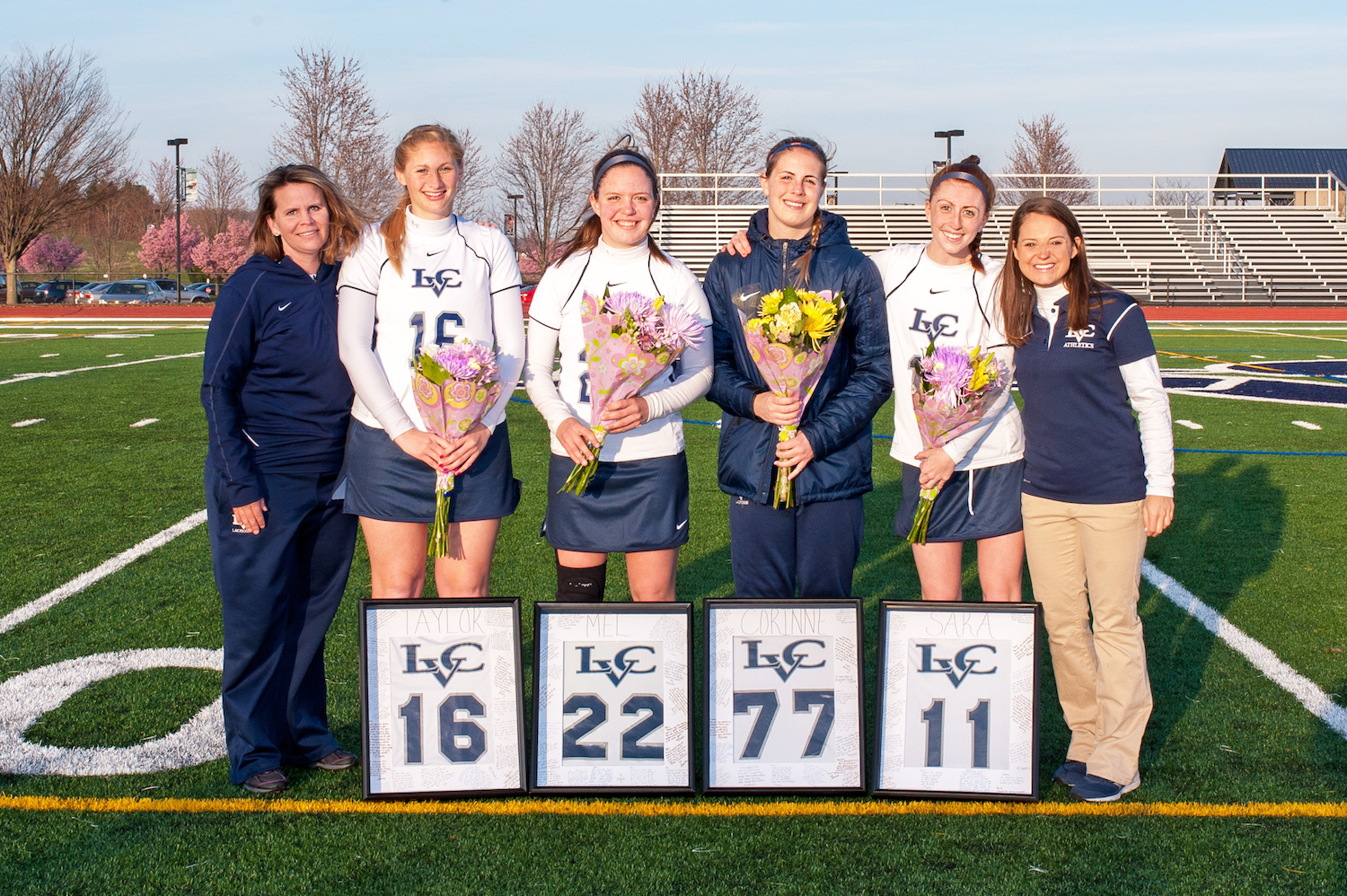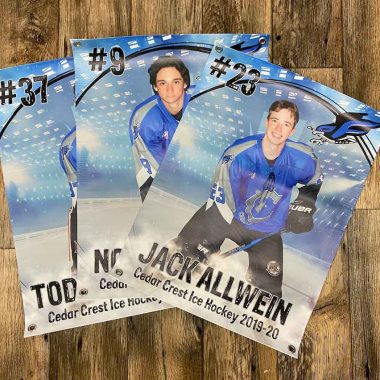 Make Senior Night
One To Remember
For years, we've been providing teams and families with not only pictures but memories they can cherish forever with our line of Senior Night products.
Design, pictures and printing are all included in our pricing, and we work with teams and individuals to accommodate any individual the best we can.
Personalized Programs Just For Your Team
If you're looking for a special touch this season, we have personalized programs just for your team. Most of our teams take advantage of this by selling ads to local businesses and then placing them in these programs. This gives your team extra income by selling them at a higher price per page than below. PLUS, most teams also sell the programs at games, giving you even more money to add to your team's finances. Since we're part of Colortech, a printing company, we're able to maximize your ROI by giving you a discount on program rates for teams that use us for photography. Programs include FREE of charge: full color team and game photos, senior bios, rosters, schedules and a 1/2 page for a coach/club message (coach message must be provided). 
8.5″ x 11″ thick glossy cover with matching glossy text pages.
"FREE Pages" include team and game photos, senior bios, rosters, schedules and a 1/2 page coach or club message.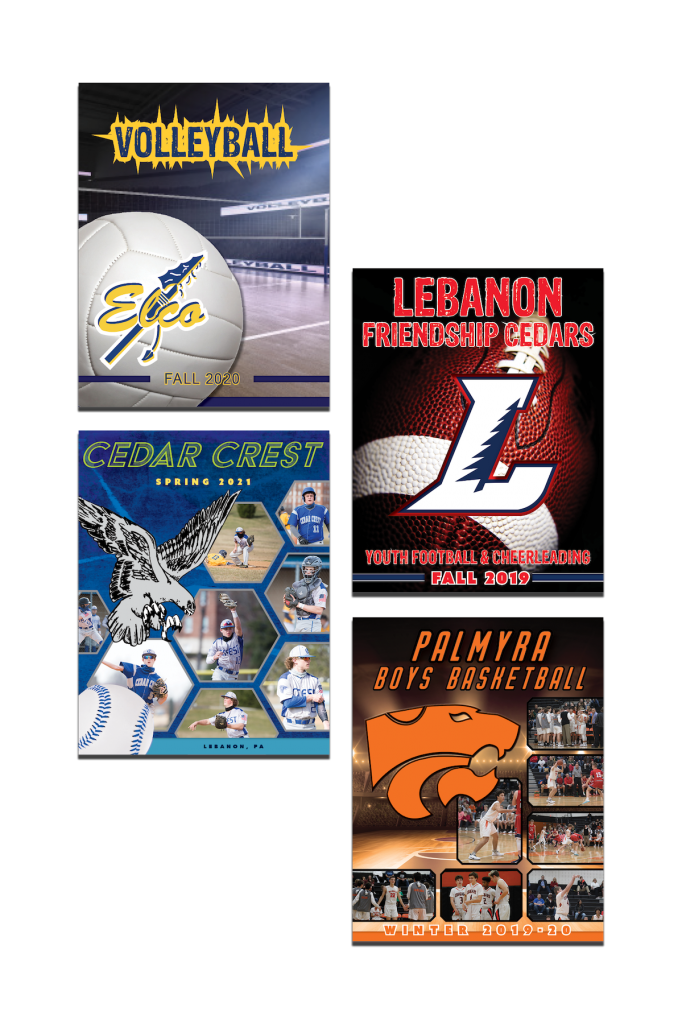 Program posted to our digital bookshelf for you to share electronically.​
You only pay for pages with your ads. Ads must be supplied as print-ready and include anything that is not listed in the "FREE Pages". 
All program runs are printed at one time. We typically ask for 3-5 days after design approval for printing.
Pricing + Quantity Options
Your Choice Of:

Color ad pages for $60 / page

Black & White ad pages for $50 / page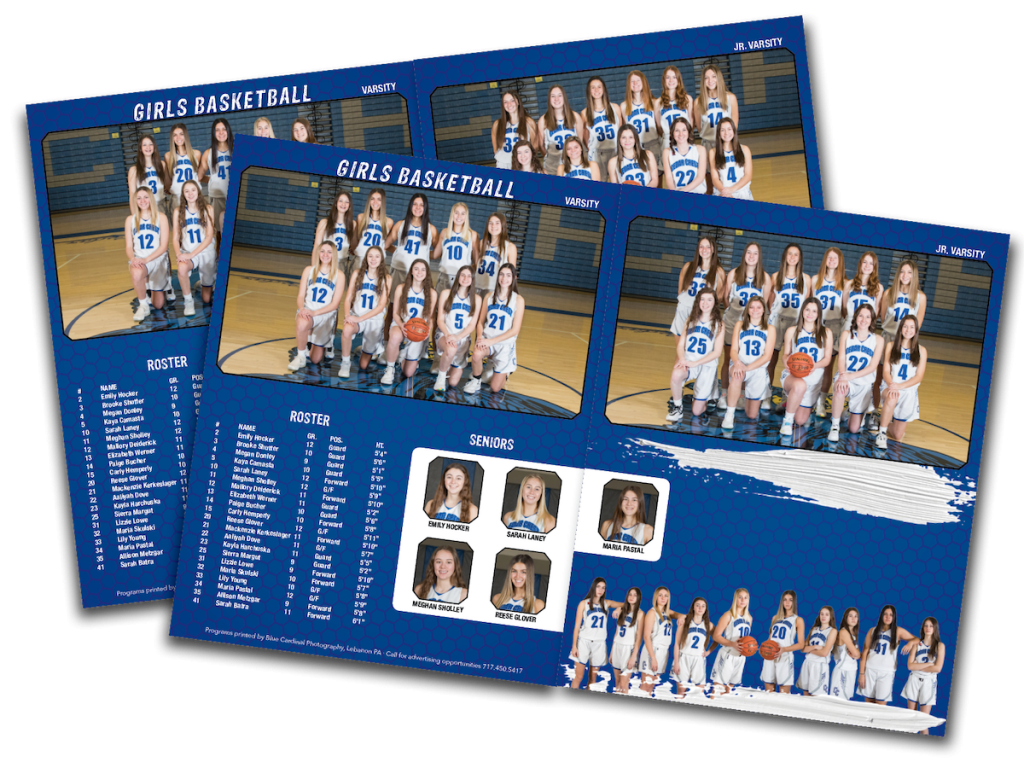 Your Ad Choice Of:

Color ad pages for $75 / page

Black & White ad pages for $60 / page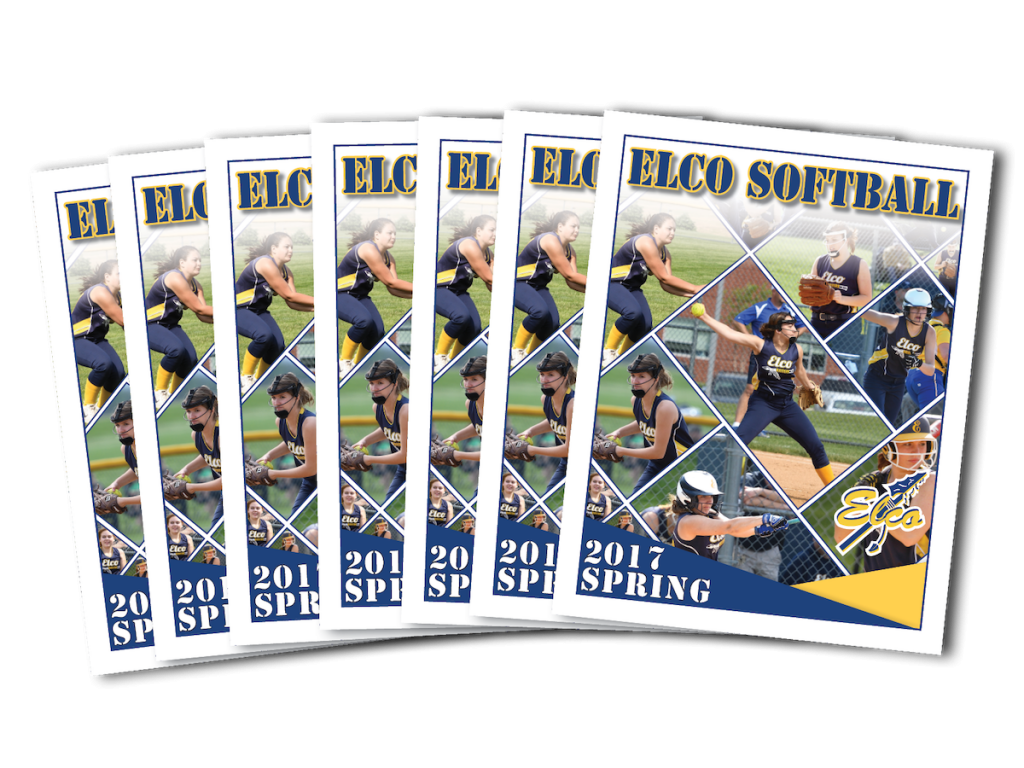 Your Ad Choice Of:

Color ad pages for $95 / page

Black & White ad pages for $75 / page
Additional info. you may need...
Ads – Ads are considered any 8.5×11 page you add to the program that does not include the "FREE Pages". (Some examples are spirit pages, award pages, score sheets, etc.)
You of course can sell your ads at any size you wish, but for best results, we suggest these ad sizes:
· Business Card – 3.5″ wide x 2″ high (prints 8 per page)
· Quarter Page – (prints 4 per page)
· Half Page – 5.5″ wide x 4″ high (prints 2 per page)
· Full Page – 8″ wide x 11″ high (prints 1 per page)
Note: All ads must be supplied as PRINT READY. We can design your ads if needed for an extra $85/hr. We can scan business cards as ads, but they may incur an additional charge.
Additional Information to Supply Us – We do add senior bios FREE of charge. These need to be supplied in a word document format to be included. You can send these directly to scheduling@bluecardinalphotography.com.
Timeline – Please notify us of your desired due date at the beginning of the project. All materials must be submitted digitally to our team 10 days prior to your due date. We will design your program within 3-5 business days, then send you a PDF to approve. After approval, we will need approx. 5 business days for print. We will contact you when they're ready for pick-up or we can deliver for an additional cost.
If you don't see what you're looking for, please contact our lead studio coordinator, Shaylea Rhoads, at scheduling@bluecardinalphotography.com. Shaylea or our staff will respond within 24 business hours between 8AM-4PM.
You can find all of our photos in our online archives HERE (opens in new tab).
Here are some quick links to help…
TEAM + INDIVIDUAL photos are posted within 5 business days after the photoshoot. GAME SHOTS are often posted within 3-5 days of the game.
We want you to be satisfied with your pictures and our service. If for any reason you have an issue, please reach out to our staff and we'll get in touch with you ASAP to resolve the issue. We're available to assist you Mon-Fri from 8AM-4PM at 717-269-2448. Or, you can email us at scheduling@bluecardinalphotography.com
YES! You can visit our online galleries to order all photos for up to 4 years. These photos will be delivered directly to you.
All you have to do it reach out to Shaylea, our studio coordinator, and she will arrange a date and time to get you info and take your photos! You can contact her via email at scheduling@bluecardinalphotography.com or at 717-269-2448, M-F from 8AM-4PM.
Contact Us About Your Team
Please fill out the information below and our photographer will get back to you to confirm or answer any questions.