To order online…
Our system runs best on a computer but is responsive on a phone or tablet. To find and order photos here are some instructions and tips.
1. In the top nav. hit "photos" then choose your category
2. You'll be presented with more categories within your choice. Follow the categories until you find your desired photo grouping.
>> Sports are organized by: School > Sport > Year
3. Choose your album and desired photo. Once you do that you'll be given a list of products you can order on the right hand side. Choose your desired product and follow the prompts.
4. Add your product to cart. Here, you can choose additional quantities if desired
Our main photo ordering system is online but we do have additional options for ordering if needed. See below…
Email* or Phone Call*
We're happy to fulfill orders via email. You will be involved via square and alerted when your photos are ready for pick up (or shipping for an additional fee).
Please have the below information within the email when ordering:
1. Full name
2. Phone # to contact when photos are complete
3. Email to send the invoice
For each photograph:
4. School, sport and year (we keep photos online for 5+ years)
5. Frame number (at the bottom of the photo online similar to ATS_2345)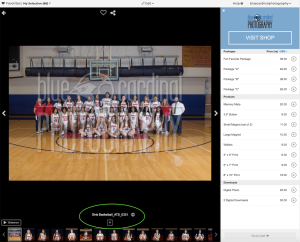 6. A quantity and size for each photo needed
Example order: 2, 4×6 of photo ATS_0287
In-Studio Ordering*
If you or someone you know would like to order without using a computer we are available for in studio appointments. Our studio coordinator is an active photographer so we do ask you call ahead to make sure someone will be available to assist you – 717-450-5417. Once you come in someone will be able to assist you with viewing and taking your order for photos. Photos must be paid for up-front when you stop by and we will call you when they're ready to be picked up.
Envelopes – No shipping or handling fee!
Envelopes are handed out for sport team and individual photos. These envelopes are handed to the athletic department prior to each season and it's the coach's responsibility to hand out the envelopes to students. The students then give them to parents who can fill them out and include a check or money. The photographer will then take the envelopes the day of the photoshoot and within 2 weeks the photos will be delivered to the school athletic department. Coaches will pass them out to students from there.
NOTE: We can not accept envelopes after the photoshoot. Our photographer needs to accurately write down a frame number the day-of.
*$5.25 handing fee applies
Shipping can be added starting at $5.25 to all orders. Products with multiple types of products or large format may be higher shipping (magnets, 16x20s, etc.)